"A writer needs three things, experience, observation, and imagination—any two of which, at times any one of which—can supply the lack of the others."
~ William Faulkner
"Youth is the best time to be rich; and the best time to be poor."
~ Euripides
"Writers aren't people exactly. Or, if they're any good, they're a whole lot of people trying so hard to be one person." ~ F. Scott Fitzgerald
******************************
Lens Day
Challenge: Monoch
rome..-
I call this first photo "Young Love" Mama told me that they were about to go to the fair..
she also told me how Grandma Black warned the "boys" ( Daddy and Uncle Neal) to make her walk between them for safety sakes..
My siblings will all want to kill me for using this photo.. but I like it.. it shows us as kids and maybe a couple of young adults..
we are all trying not to laugh at something Jimmy said..
******************************
Fingerprint Friday~
.. My Beautiful Mom!
and all of my siblings..
..
- David.. Trudy.. and Jimmy..
.. ~ Reuben..
.. Frank.. ~
... Mary-
.. Martha..-
..
I know someone will inform me that I don't have them in the right order.. I do know the right order.. I just decided to do it my own way.... just for fun try to match each of us with the Monochrome photo above...it would have been easy if I had given you the right order.. but this way is more fun.. we surely have changed in the years since those photos were made.. I love my family..between us we have produced a whole pile of kids.. grand-kids and Great Grands..
I treasure every member of the clan and feel that each of them is another special fingerprint from God..
*******************************************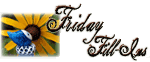 1. My back _itches.. can you scratch it for me__.
2. _Running _ wild.
3. Leaves are falling all around, _Ghost and goblins are doorsteps bound_.
4. __I hope I don't catch his __ forgetfulness.
5. Healing is __a slow process_.
6. Sneaking around and cleaning house__ is what I've been up to lately!
7. And as for the weekend, tonight I'm looking forward to _nothing much__, tomorrow my plans include __going to a festival to get some great photos_ and Sunday, I want to _rest_!
************************
Thanks for stopping by my blog today.. Today has been very busy with several visitors and one puppy moving to a new home.. She left snuggled in a shoe box in a lady's lap.. asleep with her tiny body curled around a soft green dinosaur.. I know the others miss her and so does Bonnie.. I saw Bonnie moving the others around as if she were counting them.. Too bad we can't keep all nine of them.. But even I know better than that..
I welcome both comments and followers!.. Have a wonderful night!
Patsy